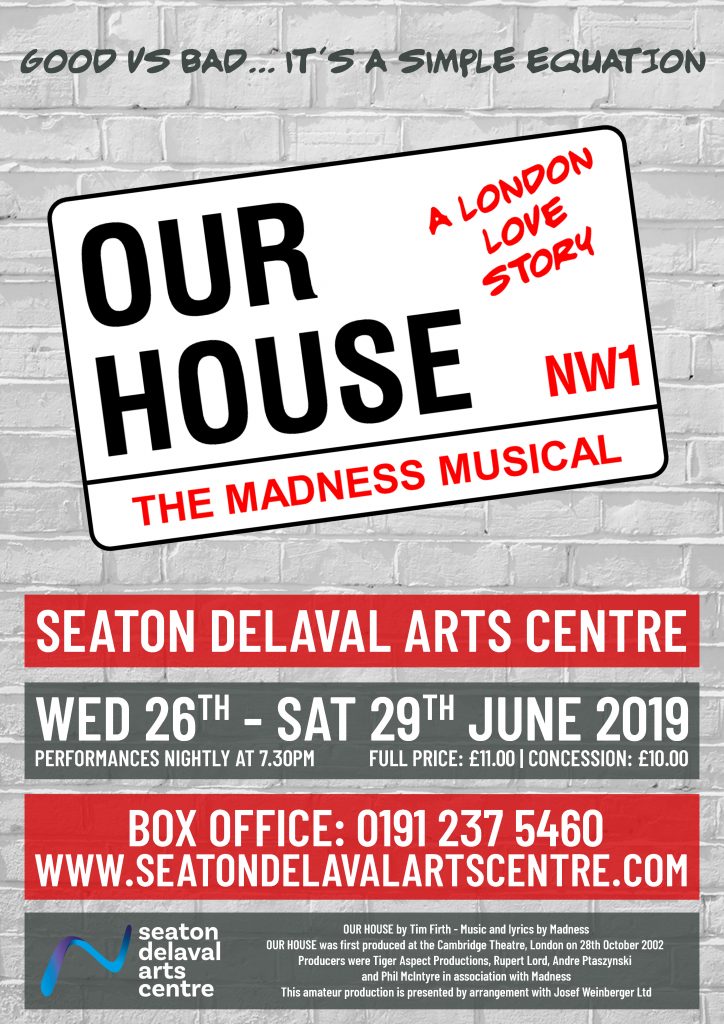 Seaton Delaval Arts Centre are delighted to be producing the modern Madness hit musical Our House this June. We're looking for cast members to join the show in both principal and ensemble roles. The uplifting, energetic musical comedy is inspired by and full of all the best Madness hits including: It Must be Love, House of Fun, Baggy Trousers, Driving in my Car and of course Our House. It's packed full of high energy dancing and big ensemble numbers.
Rehearsals will take place on Thursday evenings and Sunday afternoons at the Seaton Delaval Arts Centre. You must be aged 16 or over to take part in the show and this is an amateur production.The cast workshop audition comprises of learning a song and dance from the show and performing it in a group. All those interested should attend the cast workshop auditions to become a member of the cast, which will then be followed by principal auditions. A full list of principal parts and character descriptions are below.On the night of his sixteenth birthday, Jo takes Sarah, the girl of his dreams, out on their first date. In an effort to impress her with bravado, he breaks into a building site overlooking his home on Casey Street. When the police arrive, he faces a life changing decision; does he stay and own up like an honest man, or make his escape and go on the run? Joe's world splits in two and in a "sliding doors" moment two very different paths unfold before him.
Open Night and Read Through  Thursday 28th February from 7pm – 9.30pm
Cast Workshop Auditions  Wednesday 6th March from 7.00pm – 9.30pm
Principal Auditions    Saturday 16th March from 10.00am
Any questions? Email gareth.miller@seatondelavalartscentre.com
---
Character Descriptions:
Joe Casey – Male Lead  Sixteen, rough diamond but a diamond none the less.
Sarah – Female Lead  Girl next door, slightly more middle-class background.
Emmo and Lewis  Joe's best mates, loosely related to him and taken in by Joe's mum. The former is a big kid who would chase sticks if you threw them, the latter a more sensitive lad with a more exposed moral nerve.
Billie and Angie  Sarah's best mates, sharp-tongued and sassy with their eyes on a way out of their lowly social beginnings. Intolerant of males, except well-bred ones.
Kath Casey  Joe's mum, beaten down by life but never beaten, a heart the size of a house with a huge, feisty love for her family.
Joe's Dad  A man of fun and spirit who married the right woman but took the wrong path in life, died as a result and is now desperate for his son not to repeat the pattern.
Reecey  A smiling, charming, superficially likeable force of darkness.
Mr Pressman  Like Reecey, expect middle-aged and in control of a large company.
Ensemble and other characters  School kids, relatives, barristers, clowns, prisoners, market traders etc.