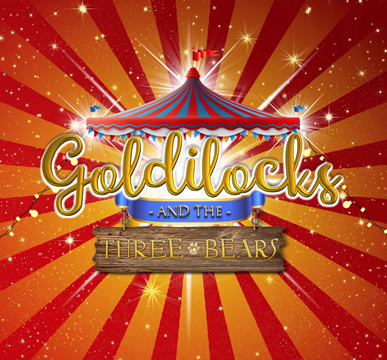 Seaton Delaval Pantomime Society are delighted to be producing the well-known tale of Goldilocks and the Three Bears as their 47th family Christmas Pantomime this December. Packed with all the traditional panto fun, songs and dances, this will be a modern production with a hilarious script perfect for the whole family.
Dame Gertie Dollop runs the show with her son Silly Billy but they've fallen on hard times. Particularly with the dastardly Ringmaster Heinkel, owner of the rival circus, up to his old tricks. Gertie needs a miracle after their honeypot of pennies is accidentally stolen by three porridge hungry, talking bears. Could they be the new star attraction Gertie has been searching for?
Directors: Stu Bennett & Lorna-Beth Pearson
Musical Director: Gareth Miller
Choreographers: Katie Jackson & Mark Robinson
Written by Tom Whalley Pantomimes
The Society is looking for performers to join our friendly group and audition for principal/lead parts along with talented young people to be part of our ensemble of singers and dancers. All cast must be 8 years old or over to take part. The show takes place over 10 performances from Friday 29th November until Saturday 7th December. Rehearsals take place on Sunday afternoon's for Ensemble with Principals rehearsing Thursday evenings and Sunday afternoon's all at the Arts Centre.
All auditions will take place on Saturday 8th June at the Seaton Delaval Arts Centre
Ensemble Auditions: 1.00pm – 2.30pm
Come along for a workshop style audition where as a group we will learn a song, learn a dance routine and then perform both together in small groups. There is no need to prepare any audition pieces. Wear clothes and shoes you can move around in and bring a bottle of water with you. No need to register in advance.
Principal Auditions: 3.00pm – 5.00pm
We're looking for performers who can sing, dance and act to play our cast of principals as below. Generally our principal cast are 16 years of age and older. However Mammy Bear, Daddy Bear and Baby Bear could all be played by younger members (8 years of age and older).
Mystic Sharon – An eccentric fortune teller and soothsayer (Alternative Fairy Godmother)
Ringmaster Heinkel – The wicked owner of the rival circus, 'Circus of Horrors'
Workie Ticket – Heinkel's well-meaning but slightly dim-witted sidekick
Goldilocks – The beautiful ingénue
Silly Billy – Daft son of Dame Gertie. An aspiring clown
Dame Gertie Dollop – Owner of Dame Gertie's Circus
Baron Wasteland – Father of Goldilocks. A bombastic, local landowner
Daddy Bear
Mummy Bear
Baby Bear
Closed auditions comprising of lib and a song which will both be provided. Auditionees are welcome to audition for more than one part, but will only need to sing one song from our list. Please register in advance by emailing stu.bennett@seatondelavalartscentre.com with your name, age and parts you'd be interested in auditioning for. We'll then provide digital copies of the audition pieces and songs for you to practise ahead of the audition.