Take to the stage in our high flying Christmas Pantomime Peter Pan!
About Us:
Seaton Delaval Pantomime Society was established in 1973. Our aim is to provide high quality entertainment for local residents and patrons along with providing an encouraging environment for all ages to develop the skills of theatre. Our motto is 'An amateur company, with professional standards', something we always strive to adhere to. For the last 50 years we've produced an annual Christmas pantomime in December and in more recent years have produced a musical each summer. Our society is ran entirely by volunteers with a passion for theatre and managed by an executive committee. Whether it's working backstage for the first time, rigging the lights or taking to the stage to perform, we take care to ensure we mentor and develop all our members and have great pride in home grown talent from our community. In 2022 we celebrated our 50th Anniversary.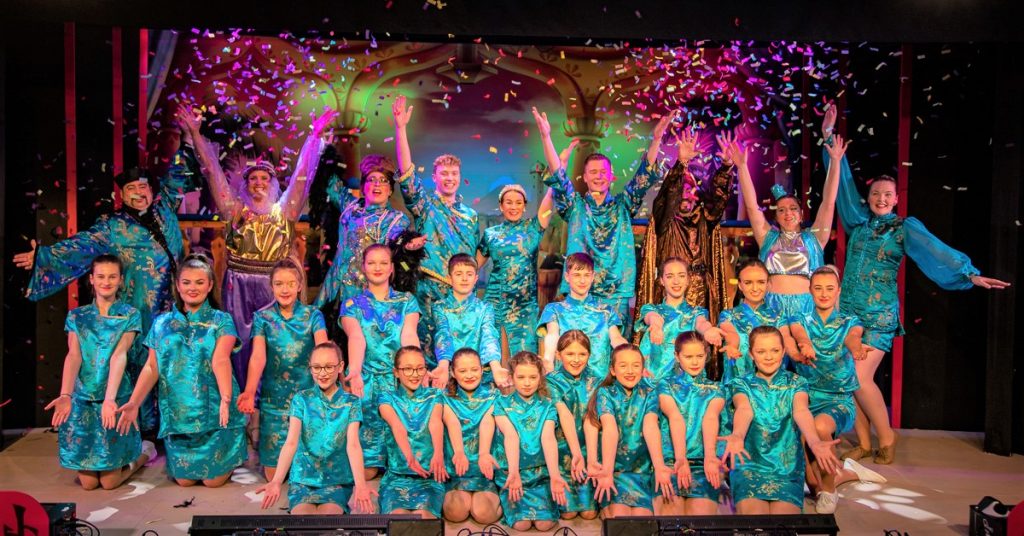 ---
About the show:
Seaton Delaval Pantomime Society are delighted to be producing a spectacular production of the high flying Peter Pan, with a fantastic script by local writer and performer Tom Whalley.

"All children, except one, grow up… On the hunt for his pesky shadow, Peter Pan meets the Darling children in their Nursery. With a sprinkling of Tinkerbell's fairy dust, Wendy, John and Michael leave Nana the Dog behind on a flight to Neverland – a magical place home to lost boys, mermaids and the most villainous pirate of them all; Captain Hook! With Mrs Starkey and her bumbling son Smee by his side, Hook seeks revenge against Peter Pan who fed his left hand to a tick-tocking crocodile hungry for the rest of him. Will the boy who never grew-up rid Neverland of Captain Hook forever? Will the Darlings find their way home to London? And, most importantly, do you believe in fairies? Find out as Seaton Delaval Pantomime Society present a swashbuckling pantomime that will have you hooked!"
The show will be packed with fantastic songs, dances and comedy routines. We aim to produce a modern show, but with the core traditional elements of panto that everyone knows and loves. The show is accompanied by a live band and high quality lighting and sound.
The show is made up of 10 principal roles plus a chorus/ensemble. Members of the ensemble will also play a number of smaller speaking parts including the lost boys (x6). The show has a range of big full cast numbers with movement along with solos. All interested in taking part in the show need to be comfortable singing, dancing and acting with lots of energy and smiles.
The Production Team:
Directors: Lorna-Beth Pearson & Stu Bennett
Musical Director: Gareth Miller
Choreography: Katie Jackson & Hannah Lazenby
---
The Audition Process
Principal Auditions:
Thursday 29th June from 7.00pm till 9.00pm at the Arts Centre
The following principal roles are open for audition as part of the show:
| | | |
| --- | --- | --- |
| Role | Description | Age reqs |
| TINKER BELL | Peter's pixie friend with attitude! | 15+ |
| WENDY DARLING | The headstrong, eldest of the Darling children | 16+ |
| DAME DARLING/LADY STARKEY | Mother of the Darlings/A pirate wench – Smee's mother. The Dame | 16+ |
| MR DARLING/CAPTAIN HOOK | Officious Father of the Darlings/The dastardly pirate. The Baddie | 16+ |
| PETER PAN | The boy who never grew up. Principal Boy | 16+ |
| SMEE | The bumbling, lovable first mate. Comedy Lead | 16+ |
| TIGER LILY | Daughter of the Chief | 15+ |
| CHIEF WILLIE | The head of the Neverlanders | 16+ |
The audition will comprise of acting some lib from the script along with performing a song from a choice of three songs in the show. Performers are welcome to express interest/audition for more than one part.
Please fill out the form below to register your interest. We will then send the lib and music pieces for the parts you are interested in auditioning for via email. On the day it will be first come first serve, but we will aim to get through all auditions as quickly as possible
So we know how many people are attending you must pre-register for this session using the online form below;
PRINCIPAL REGISTRATION: https://forms.office.com/e/GaAW15ScS4
---
Chorus Auditions:
Sunday 2nd July 2023 from 1.30pm till 3.30pm at the Arts Centre
This session is for anyone who would like to be part the chorus comprising of singing, dancing and acting throughout the show. Chorus members must be 8 years of age or older. You do not need to prepare anything for the day. The auditions will be an informal workshop. The first half will singing and learning a song. We'll then teach a dance to the same song and then put it all together and perform in small groups at the end. We will also be doing a little acting exercise reading out some lines from the script for those who may want a small speaking part such as the lost boys. Please wear clothes you can dance and move around in plus bring a drink and a snack.
So we know how many people are attending you must pre-register for this session using the online form below;
CHORUS REGISTRATION: https://forms.office.com/e/vE2mDKbxJc
---
Michael & John Darling Auditions:
Sunday 2nd July 2023 from 1.30pm till 4.30pm at the Arts Centre
This session is for anyone who would like to audition for John or Michael Darling. They will take part in the normal chorus workshop auditions mentioned above which cover singing and dancing in groups and then from 3.30pm till 4.30pm we will do lib auditions for these specific roles. The lib/parts of the script will be sent by email before the audition so you have time to practise at home. These roles can be played by either boys or girls but must be aged 14 and under.
| | | |
| --- | --- | --- |
| Role | Description | Age reqs |
| JOHN DARLING | Adventurous and pragmatic son of the Darlings | 14 and under |
| MICHAEL DARLING | The youngest of the Darlings | 14 and under |
So we know how many people are attending you must pre-register for this session
MICHAEL & JOHN REGISTRATION: https://forms.office.com/e/sZw1aZFk5h
---
Rehearsals & Show Week:
All rehearsals and performances take place at the Seaton Delaval Arts Centre, Blyth Street, Seaton Delaval, NE25 0DY. Starting week commencing 4th September principals will rehearse on a Thursday evening with joint Chorus & Principal rehearsals on Sunday afternoons. Michael and John won't be required every Thursday and only on occasion. Rehearsals are busy but fun with plenty of laughs and socialising.
We expect cast to attend the vast majority of rehearsals, catching up at home on any that are missed by learning song words or practising dance routines. You must be available to perform in all performances, including the Dress Rehearsal on the evening of Thursday 30th November 2023. This is compulsory.
Show dates:
Friday 1st December at 7.00pm
Saturday 2nd December at 1.00pm
Saturday 2nd December at 7.00pm
Sunday 3rd December at 1.00pm
Monday 4th December at 7.00pm
Tuesday 5th December – No performance/night off
Wednesday 6th December at 7.00pm
Thursday 7th December at 7.00pm
Friday 8th December at 7.00pm
Saturday 9th December at 1.00pm
Saturday 9th December at 7.00pm
---
Administration:
There is a one-off membership fee of £25.00 to take part in the production. This covers a range of costs including insurance, venue hire, costumes and more. There are no weekly subs or additional charges. This can be paid in full on the first rehearsal or you can stagger payments, please speak to us to arrange this. There will also be an online registration form for all members of the cast and crew to complete including your personal and medical information. We may ask you to provide a small number of self-dress costumes including shoes and basics that you may have at home already or from previous shows.
We are ran entirely by volunteers who love putting on a show for the community to enjoy. We do ask for help and support from parents/guardians/family members with a range of tasks to put a show of this size on the stage. These vary from helping Front of House during the show week, building and painting sets, cleaning the venue, chaperoning and so much more. All help and assistance is greatly appreciated.
Need any more info? Contact us on stu.bennett@seatondelavalartscentre.com and we'll get back to you as soon as possible.