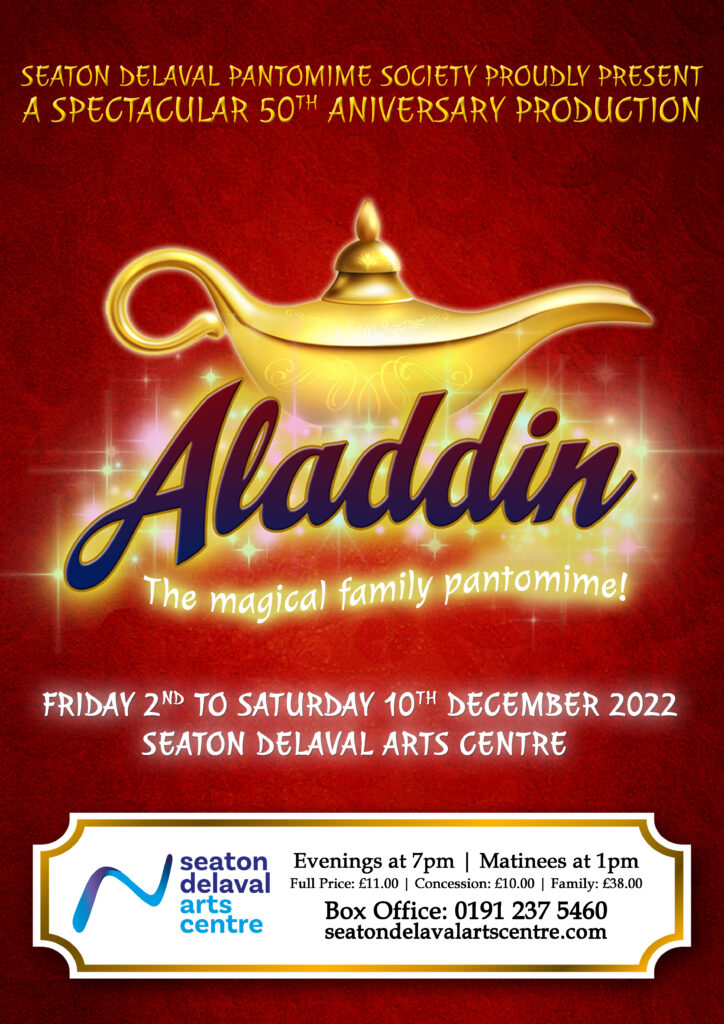 Calling all talented performers! Take to the stage our spectacular 50th Anniversary Pantomime!
Seaton Delaval Pantomime Society are delighted to be producing a spectacular production of ALADDIN this Christmas. This is a extra special production as we celebrate 50 years of our organisation and pantomime in Seaton Delaval
Abanazar, an evil magician, has discovered the secret to becoming Master of the Universe. All he needs is an enchanted oil lamp hidden away for many years in a lost cave but only the 'chosen one' is allowed to set foot inside. Meanwhile, Aladdin dreams of marrying the beautiful Princess Jasmine but a penniless laundry boy could never hope to have the love of a royal. Could he be the chosen one? This hilarious show for the whole family is packed full of all of the usual show-stopping songs, dazzling dance routines and hilarious knockabout comedy with bags of audience participation and fun to make your every wish come true!
Written by Tom Whalley, the pantomime is made up of 9 principal roles and a chorus of singers and dancers. The show has a range of big full cast numbers with movement along with solos and some small speaking parts for chorus members. All interested in taking part in the show need to be comfortable singing, dancing and acting with lots of energy and smiles.
We're holding open auditions for talented performers to take part in the show. Find out more and register in advance on our Auditions page.