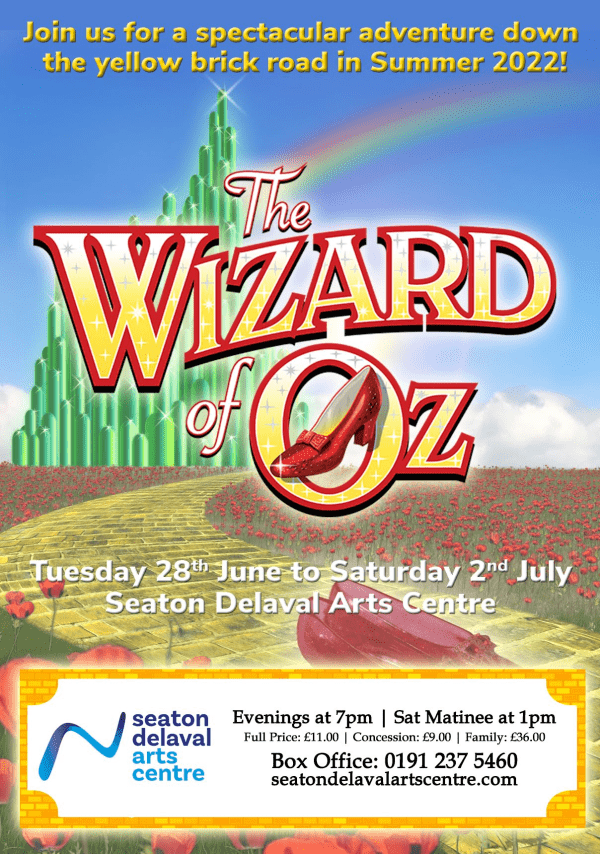 Seaton Delaval Pantomime Society are delighted to be producing a fantastic summer pantomime The Wizard of Oz. We are looking for talented people to take part in the show and are holding open auditions for both principal parts and chorus roles.

Dorothy Gale and her little dog Toto are forever getting into trouble on the farm in Kansas. Alongside her Aunt Em, Uncle Henry and her three hapless farmhand friends, she dreams of traveling to a place where troubles melt like lemon drops over the rainbow. Her wish is granted courtesy of a terrible twister which takes her far away to the magical land of Oz where the beautiful Dame Glinda sends her off down the yellow brick road to the Emerald City. But hot on her ruby heels is the Wicked Witch of the West who is bent on taking over the colourful kingdom. With the help of a scarecrow, a tin man and a cowardly lion, will Dorothy have the brains, heart and courage to save all of Oz and find her way home? 

The show is made up of 8 principal roles and a chorus of singers and dancers. The show has a range of big full cast numbers with movement along with solos and some small speaking parts for chorus members. All interested in taking part in the show need to be comfortable singing, dancing and acting with lots of energy and smiles.
We're holding open auditions on Sunday 3rd April 2022. Find out more and register in advance on our Auditions page.