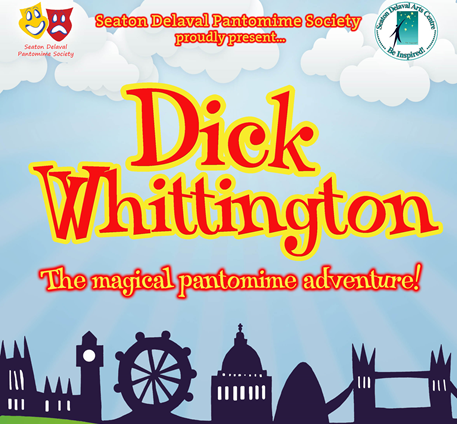 For our 45th annual production, Seaton Delaval Pantomime Society will be producing the well-known tale of Dick Whittington as our 2017 family Christmas Pantomime. Packed with all the traditional panto fun, song and dances, its set to be a fantastic production of the classic story. The show takes place from Friday 1st – Saturday 9th December 2017 at the Seaton Delaval Arts Centre The society is looking for people to join our friendly organisation and audition for both principal/lead parts and talented young people to be part of our chorus of singers and dancers. The society is ran entirely by volunteers from the community and we've produced an annual Pantomime in the village every single year since 1973! Our motto is 'An amateur society with professional standards'.
Open afternoon & read through of the script
Saturday 24th June from 1.30pm till 3.00pm
Come along to find out more information on the show, meet the production team and for an informal reading of the script so you can find out all the parts. At this session audition parts will be given out along with information on the three set audition songs and how to download them.
Auditions – Saturday 1st July
Chorus workshop from 1.30pm till 3.30pm
Principal auditions from 4.00pm till 6.00pm
Those wishing to be part of the Chorus will take part in an informal workshop audition where we will sing some songs, learn a new dance and perform together at the end. You do not need to prepare anything. For Principal roles, auditionees will be required to read the audition parts (given out at the read through) and sing one of the three set audition songs.
All of the above takes place at the Seaton Delaval Arts Centre, Blyth Street, Seaton Delaval, Northumberland, NE25 0DY.
All enquiries to stu.bennett@seatondelavalartscentre.com or leave a voicemail on 0191 237 5460. We'd love to see you there for another fantastic show!