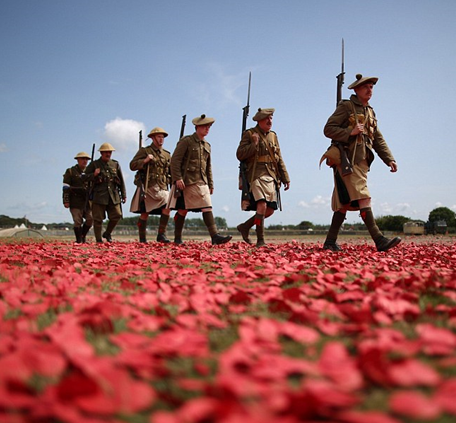 Beat the Drum – A commemoration to the 100th anniversary of the First World War
Saturday 19th May 2018 at 7:30pm
Beat The Drum is a commemoration of the First World War in songs, stories and images. The show is a musical treat, backed and enlivened with tales from 1914 onwards and supported by projected images and video. The show features a range of contemporary and original songs and music all performed live by local act Fools Gold. The stories tell of the Great War, referencing Pt. Michael Heaviside VC as a guide. The show treats the subject with respect, but certainly is not a sombre occasion with plenty of audience involvement and a good old sing along to songs we all know and love.
Steve & Carol Robson perform under the name 'Fool's Gold'. They play all over the UK to a wide range of increasing audiences. Their music is contemporary folk – but a fair few songs from the time find their way into the show. The show features a dazzling array of instruments, all played live.
Full Price: £10.00 | Concession: £9.00
Click Here to buy tickets online
---
Martin Mor – Adventure Comedian
Saturday 9th June 2018 at 7:30pm
Martin is one of the world's most travelled, and adventurous comedians. With over 30 years as a professional performer he has a lot of stories to tell; from a show in the exercise yard of an Italian prison, to performing the world's highest altitude comedy show at Mount Everest Basecamp. Hear about hilarious close encounters with bears, crocodiles, and sharks (not all at once), and tales of performing on six continents. Pick a country; Martin will tell you a funny story about it. If you are interested in adventure, travel, wildlife, or just like having a good laugh, come and enjoy this special performance.
"A comedy institution" The Guardian
"absolutely brilliant" Edinburgh Festivals Magazine
Full Price: £10.00 | Concession: £9.00
Click Here to buy tickets online
---
Seaton Delaval Pantomime Society present Showtime Shuffle
Saturday 23rd June 2018 at 2:00pm and 6:00pm
Join us for a night of music, song and dance as talented young members aged 8 to 16 from Seaton Delaval Pantomime Society present a brand new summer show for 2018! The show takes you on a journey through Sophie's iPod and the different playlists she listens to all the time. Packed full of the best songs from musicals old and new with fantastic dance routines and movement, this is a spectacular show perfect for the whole family!
Full Price: £8.00
Click Here to buy tickets online
---
The Moonbeats
Saturday 30th June 2018 at 7:30pm
The Moonbeats bring their fab sixties show to the Arts Centre this June, featuring songs by The Beatles, Gerry and The Pacemakers, The Kinks, The Who, The Hollies, The Searchers, Herman's Hermits and many, many more! The Moonbeats are a local band who have had much success over the years in various guises, playing at venues such as The Tyne Theatre & Opera House, and The O2 Academy as well as various radio appearances. The brand new sixties show features all of the classics from the decade that defined pop music as well as some hidden treasures too. The high energy show, complemented by sixties costumes and various audio-visual effects, will have you dancing in the aisles all night long!
Full Price: £11.00 | Concession: £10.00
Click Here to buy tickets online
---

Seaton Delaval Pantomime Society present Boogie Nights – The 70's Musical
Wednesday 25th – Saturday 28th July 2018 at 7:30pm
Boogie Nights The Musical tells the hilarious and heart-warming story of Roddy, a Jack-the-lad, whose life of birds, booze and boogie is about to be turned upside down. It's the night that the King, Elvis Presley, died and Roddy O'Neill is busy dreaming of life as a rock star! Debs, his girlfriend, has her own thoughts… basically that Roddy's a selfish, arrogant, horrible, unfeeling, rude, heartless pig! But the truth is that Roddy is in love with Debs, and Debs is in love with Roddy, but Debs knows that her Roddy has more than a roving eye! Through all their tears and laughter – can they both find what they are truly searching for?
Packed with all the greatest Disco classics you'll be dancing in the aisles to the grooviest chart topping hits like 'You Sexy Thing',' Y.M.C.A.', 'I Will Survive', 'Blame it on the Boogie' 'Enough is Enough, 'Celebration', 'Boogie Wonderland' and many many more!
Written by Jon Conway. Script associates Shane Richie and Terry Morrison. This amateur production is presented by arrangement with Music Theatre International (Europe) All authorised performance materials are also supplied by MTI Europe
A licensed bar will be available at Boogie Nights. Only alcohol purchased at the venue is to be consumed during the performances.
Full Price: £11.00 | Concession: £10.00
Click Here to buy tickets online
---
The Darling Dollies
Saturday 29th September 2018 at 7:30pm
The Darling Dollies are a professional female vocal trio based in the North East, who specialise in 1940s close-harmony singing with a vintage vibe. They sing a variety of songs from the 1940s, golden hits from the 50s and 60s plus some modern songs all with a vintage twist. Their unique style and stunning harmonies has made them local favourites performing regularly across the region. Join us for a night of nostalgia with tunes such as Boogie woogie bugle boy, Don't sit under the apple tree, Lollipop and much much more.
Full Price: £10.00 | Concession: £9.00
Click Here to buy tickets online
---
Baby Love Productions present Love Songs by Tom Kelly
Saturday 27th October 2018 at 7:30pm
Love Songs is a moving and humorous play, by Tom Kelly, celebrated North East playwright and writer of The Dolly Mixtures, I Left My Heart In Roker Park and Geordie the Musical. On a sixties tribute tour, peopled by quirky and comic characters, the seeds of romance are slowly starting to grow for two singers. Unfortunately, they are both running from their past and from the shadows of cruelty and abuse. Can they help each other face their tormentors and build a hopeful future? "There's a place for us"says the song but is it true for Victoria and Gary? Featuring iconic songs like Bridge Over Troubled Water, Somewhere, True Love Ways, Love Me Tender & Will You Still Love Me Tomorrow?
Full Price: £10.00 | Concession: £9.00
Click Here to buy tickets online
---
Seaton Delaval Pantomime Society present Jack and the Beanstalk
Friday 30th November – Saturday 8th December 2018 | Various Times
Our hero Jack, his mother Dame Trott and his brother Simon haven't a bean to their name! Their friendly cow Daisy has gone dry and worse still the village is being destroyed by the evil giant Blunderbore. Join us for a magical adventure to see if Jack can save the day, defeat the giant and win the princess's heart in this rags to riches tale.
From the team behind last year's hit show, Seaton Delaval Pantomime Society present the perfect panto for the whole family to enjoy, packed full of all of the usual show-stopping songs, dazzling dance routines and hilarious knockabout comedy with bags of audience participation and fun.
Full Price: £10.00 | Child: £9.00 | Concession: £9.00 | Family: £34.00
Click Here for dates, times and more information