Sunday 13th November 2022 at 7.00pm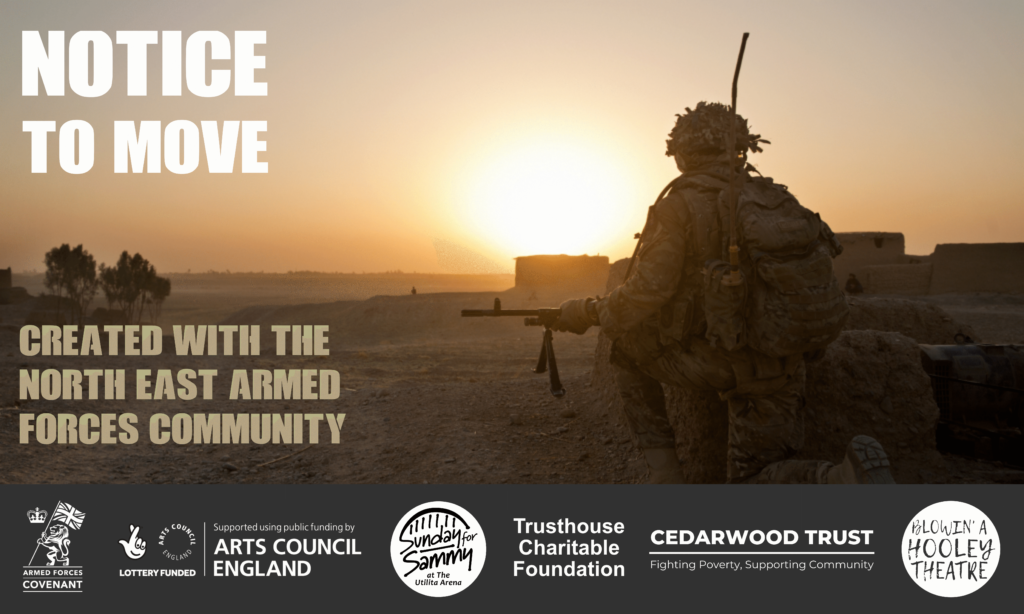 The camaraderie of 6 soldiers is challenged when cocky Sprog arrives to replace a fallen friend hours before deployment. After Rutter's mistakes in training that could cost their lives in action, the soldiers question who will have their back as they're put on notice to move. With Smudge on back-to-back tours, Knobby still pulling pranks, Lewis hiding something from her team and Chopper unusually quiet, it's not just the new kid picking at this second family's scars. Will they make it back from breaking point or has it gone too far this time? There are big decisions to be made by the soldiers who can only 'hurry up and wait'.

Created with the North East Armed Forces Community, 'Notice To Move' is followed by a panel discussion and accompanied by an exhibition of veterans' writing and artwork and military and civilian support services.
This one-act play will be approximately 45-60 minutes with no interval. Please note, the production is suitable for ages 15+ and includes strong language, gunfire effects and themes of violence, death and grief.
www.hooleytheatre.com
www.facebook.com/hooleytheatre
Full Price: £8.00 | Concession: £6.50
Bring your own bottle