Saturday 4th July at 7:30pm
By PaperTown Productions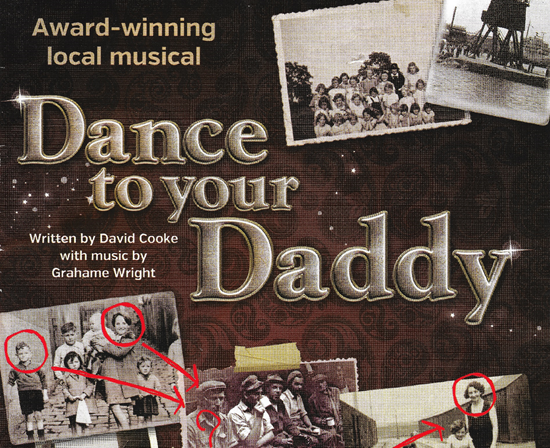 Update – 31/03/2020
Due to the ongoing Coronavirus (COVID-19) situation, this show has unfortunately been cancelled. We are incredibly sorry for the inconvenience this causes, however we continue to follow official guidance; the safety of all users/visitors/volunteers is our number one priority. All ticket holders have been notified and refunds will be processed. If you have any queries please contact our team on boxoffice@seatondelavalartscentre.com
Dance to your Daddy – the award winning musical play, is set in the north east where kids lived in back lanes more than anywhere else. Mothers and friends would stand on the corner, arms folded, telling stories that made jaws drop. They were telling stories like this one, about a boy without a dad and a mystery that would take 20 years to solve.
Neighbours would be shouting abuse standing at upstairs window, or warning the bookies runner that the polis was sneaking round the corner. Spectacular tennis matches were played out against the gable end and cricket matches took place on the nearby site of bombed buildings.
It was a time of extended families, hardship, love and affection, butter and sugar sandwiches and the arrival of the life changing Y fronts. Kids like Jimmy wore shorts till they started senior school and spent most of the time scrubbing their knees. And then there were the glamorous girls from the factory; Jimmy loved them but didn't dare answer them back.
Jimmy's in the middle of this story with his mam and his auntie, great friends and then something happened. A fire destroyed a life and left little Jimmy confused, sad and angry. Some said it was an accident; others knew it wasn't. So the mystery that began with Jimmy's birth and his missing dad continued.
Dance To Your Daddy is packed with laughter, tinged with tragedy, with lots of brand new songs. It's a story you don't want to miss, a drama you won't forget, songs you'll keep on singing.
A PaperTown Productions show | Writer and Director David Cooke | Music by Grahame Wright
Full Price: £10.00 | Concession: £9.00
Bring your own bottle ✅